Welcome to Our Web Site!


Renaissance Remodeling is Central Ohio's source for complete home remodeling and repair. We do everything from minor electrical work to major remodeling and home renovations. We maintain a high level of professionalism while providing our customers with precise, quality work. Take a look at our extensive list of services we provide. If you can't find what you're looking for, give us a call. Even if it's not on our list, we still might be able to help!
We warrant our labor for 2 years.
Serving Central Ohio including:
Bexley, Columbus, Coshocton, Dublin, Gahanna, Grandview, Granville, Hilliard, Johnstown, Lewis Center, New Albany, Newark, Powell, Sunbury, Upper Arlington, Westerville, and Worthington.
Renaissance Remodeling, LLC
Michael Wasiloff, President.
740.587.2493
renvp1974@gmail.com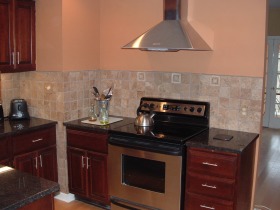 Repair & installation services preformed by Renaissance Remodeling, LLC:

Back splashes: Bathrooms & kitchens with ceramic, stone, granite, etc.
Bathrooms: Partial to total remodels, from the basics to "Hollywood"
Basements: Structural supports, beams, jack-posts, re-lay block walls, sump systems, waterproofing and complete finishing
Carpentry: Rough framing to fine finish trim work
Central Vac: Install system
Ceramic Tile: Floors, walls, backsplashes, shower stalls, tub decks & more
Concrete Work: Slabs, sidewalks, driveways and steps
Countertops: Formica, ceramic and stone
Decks: Complete design and construction, staining, power washing and board replacement
Doors: Interior, exterior, hardware, pocket doors
Drainage: Run-away lines, curtain drains, box drains and re-grade foundations
Drywall: Water, fist and foot damage
Electrical: Everything from broken switches and plugs to upgrading entire electric service
Fencing: Repair, paint, stain and install new
Fireplaces: Custom mantles, bookcases, hearths, stone, ceramic and brickwork, fire box installation
Flooring: Vinyl, wood, laminate, ceramic and stone
Framing: New walls installed, old walls moved, etc
Gutters & Downspouts: Clean, re-hang, paint, install new and install Waterfall, or other gutter top system
Kitchens: Everything from disposal replacement to complete design, planning, and remodeling
Landscaping: Overgrown shrub removal, replanting, reseeding and drainage solutions
Lighting: Replacement and upgrades, design and installation
Masonry: Repair and installation of brick, stone and stucco stone, tuck pointing, chimney caps and sealing
Painting & Staining: Inside, outside and stain matching
Patios: Concrete, brick and pavers
Plumbing: Everything from sinks, traps, toilets, faucets, supply lines, drain lines and hot water tanks
Roofing: Nail pops, missing shingles, leaking flashings and total replacement
Screened Porches: Design & construction
Siding: Aluminum, vinyl, cedar and composites
Skylights: Properly installed skylights don't leak! Ours don't leak!
Termite Damage: Beams, joists, sill plates, band joists, etc.
Closets: Organizer design & install
Structural Repair: Termite damage, water damage, foundation damage
Tile: Floors, shower stalls, wainscot, countertops and patios
Trim work: Finished carpentry, door replacement, bookcases, crown molding, wainscot, paneling, room dividers and complete trim changeovers
Venting: Ridge, gable end, hat and soffit vents
Windows: Replacement of glass, cartridges, hardware, trim, and total window replacement
Stucco Stone: Inside & out, fireplaces, chimneys, walls